Scarlet Rose - All Aboard
Posted - January 22, 2013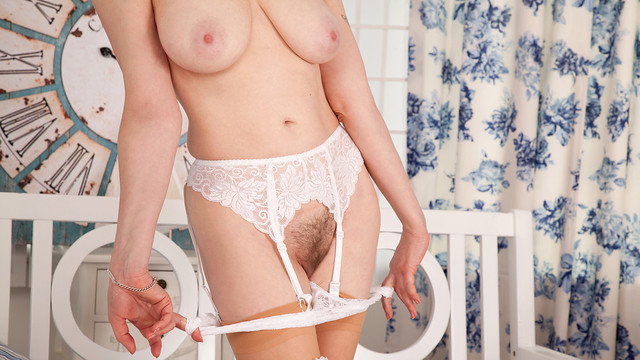 Scarlet Rose is a 44 year old milf who loves to role play. Dressed in a uniform with a button-down blouse that sets off her all natural big boobs, Scarlet takes her time undressing for the camera. First she shows off her hairy creamy pussy, and then she takes the time to massage and pleasure her sensitive heavy tits.
»»» End «««
Jenna Covelli Sheer Santa Seduction
Posted - December 24, 2012
50 year old
Jenna Covelli
lives in California where she enjoys the warm weather year round, even during the holiday season.
"I actually really like living somewhere that doesn't get cold. It's not that I mind chilly winter nights, but it's so fun to wrap myself up in something sexy to give for the holidays,"
she explains. True to her holiday spirit, Jenna has invested in a Christmasy outfit that she loves to show off. It features a Santa hat and a tight red top that she likes to pair with white lacy panties and thigh high stockings that encase her
long slender legs
perfectly.
"The best part about giving the gift of me is definitely getting unwrapped,"
she adds as she slips out of her shirt, baring the
white push-up bra
that has given her
big tits
amazing cleavage beneath her shirt. She leaves the hat on for a festive touch as she stands up from where she was perched on the piano bench and does a slow circle as her
hips sway
provocatively to a Christmas carol that she hums.
Sitting back down on the piano bench with her legs spread wide to show off a tantalizing glimpse of her
landing strip pussy
through her sheer panties, Jenna leans back and cups one big boob in her hand so she can pinch her hard nipple.
"I put this on for my date tonight, but I think I'll have to get myself off before he gets here so I don't jump him the second he arrives."
Her decision made, Jenna lays down on the piano bench and runs her palm down her
flat belly
to press against the damp heat of her twat as her other hand continues to massage her
tender breast
. If you want to watch this mature milf fuck herself on camera for Christmas, then head to
Anilos.com
® now for hundreds of high quality pics and tons of video of this horny cougar.
»»» End «««
Amber Jewell Reporting For Duty
Posted - October 29, 2012
Amber Jewell from the United Kingdom has had plenty of different careers in her 42 years, but her fondest memories are definitely from her time working as a nurse with the defense forces. "There weren't as many women as men, and the men were lonely and horny. It didn't hurt that I looked hot as hell in my uniform." Frowning at the memory, Amber suddenly brightens up and snaps her fingers. "You know, speaking of my uniform I think I still have it. Let me go see if it still fits!" Minutes later Amber emerges from her room looking hot as hell in a form-fitting uniform that highlights her incredible curves while still looking professional. "Amber Jewell, reporting for duty," she says with a salute and a giggle as she stands at attention. Of course, her professional demeanor doesn't last for very long. "Geez, this thing brings back so many memories. Most of them are of getting naked." Inspired, Amber unzips the uniform's skirt and slides it down her legs, taking her panties along with it. "I've been leaned over a table, pressed up against a wall, and even bounced on commanding officer's lap dressed just like this," she murmurs as she runs her fingers along her stocking-clad legs and slides a fingertip down her dewy slit. Her jacket and jaunty hat come off next, followed by her blouse until she is left in nothing but a garter belt and stockings. "I maybe slept around a lot while I was in the service. There were just so many hot men and I loved the attention. Most of the time when I was naughty while on the clock I made sure we had just a quick fuck. I had to be really into a guy to let him undress me before we screwed like bunnies." If you like the way Amber looks in a uniform then you'll love watching her as she takes it off and fingers her horny pussy until she cums. Check it out, only at Anilos.com®.
»»» End «««
Kashmir Maid Role Play
Posted - September 13, 2012
Being new to the adult modeling scene hasn't stopped 48 year old Kashmir from spreading her wings and exploring new ways of pleasuring herself. "I've realized that I enjoy role play, especially with sexy costumes. Pretending that I'm a maid whose master demands I wear a slinky uniform really gets me hot and bothered. It makes doing basic household chores a whole lot more fun." Dressed in a naughty maid outfit and taking care of business with a pink feather duster, Kashmir wanders her house cleaning as she sees a mess. Something pink catches her eye and she kneels down to see what she's found. Holding up a pink vibrator, Kashmir gives a little laugh. "I must have hid this here the last time I did some cleaning. It's a good thing I found it since I'm about ready for a break..." Sinking down to the carpet with her back propped up against a wall, Kashmir pulls her medium sized boobs out of their confinement. She cups her heavy tits in her hands, tracing along her big areolas and pinching her puckered nipples. Parting her thighs and flipping up her skirt to show off her shaved pink pussy, Kashmir is ready to go. "I love this feather duster for more than just cleaning," she murmurs as she runs the pink fluffiness up and down her skin. She shivers wherever the duster makes contact, clearly enjoying the sensation of this gentle seduction. The vibrator she has discovered beckons, though, and Kashmir can't ignore the call for long. Turning it on, she applies the tip to her sensitive clitoris for a few moments before sliding it up and down her creamy slit to spread her pussy juices everywhere. When she's slick and ready, she pushes the lubricated vibrator deep into her horny twat. You can watch this horny grandma work herself until she cums right now only at Anilos.com®.
»»» End «««
Michelle B Sexy Flight Attendant
Posted - August 28, 2012
30 year old Michelle B is a gorgeous blonde from the UK with some stunning assets to show off-and she does love to show them off! "I guess you could call me a bit of a tease, but I just love it when guys stare at me. It's all about the boobs and mine are amazing." She particularly loves dressing up in little outfits that emphasize her curvaceous body and her giant tits. "Role playing does a lot for me. I know that I look great in everything, but uniforms in particular really seem to bring out the best of my body. Not to mention that added element of fun. I really love the getups with buttons and skirts... talk about easy access!" Dressed in a sexy flight attendant getup that enhances her fabulous cleavage, Michelle pulls her skirt down to show off the garter belt and sheer thigh highs she is wearing beneath. Lifting her leg high in the air, Michelle gives the camera a great view of her luscious ass and her slick juicy twat. "Oh, I love the feel of air on my pussy when I'm still partly clothed. It's so delicious and naughty." The pearls of liquid desire forming along Michelle's wet slit are proof of what a turn-on her partial nudity really is for her. Encouraged, Michelle unbuttons her prim uniform halfway down to her waist to let her enormous breasts hang free. The perfect huge globes swing as she settles herself in a chair and spreads her legs wide to give herself easy access to her slippery cunt. Using both hands, she parts the soft folds of her pink pussy and runs her index fingers down the slickness of her most intimate places. Slipping a finger into her hot needy pussy, Michelle closes her eyes and moans with pleasure. You can check out this horny cougar as she fingers herself to an orgasm right now only at Anilos.com®, where all of the Internet's hottest sexy milfs are featured weekly.
»»» End «««
Anna Joy Anilos Teacher
Posted - August 6, 2012
Anna Joy, a 32 year blonde bombshell from the UK, was always a good girl in school. "Rarely did I misbehave. I have always been proper and well behaved", she revealed. Well, good thing for us, Anna has since changed her "well behaved" ways! After the nerves of her very first shoots were gone, Anna was more than willing to do a naughty teacher shoot! The role fit her very well of course, as Anna was getting increasingly naughtier with each passing minute! "I love to role play! It is something my husband and I do to keep our sex on fire!" she exclaimed. Her soft blonde hair fell perfectly over her shoulders as her perky and firm breasts sat enticingly beneath her lacy white corset. Finally, after what seemed to be an eternity, she started to strip off her clothes and massage her pussy. Lifting her tight skirt up just enough to show her throbbing pussy, Anna stood up and slammed her high heel into the chair. The fierce and vengeful manner in which she did this came as a shock! We thought Miss Anna Joy was sweet and innocent, well we got that wrong. As she flipped around, she inserted her fingers deep into her shaved pink twat. Her fingers were covered in the evidence of her mood. Shiny and sticky, they were glistening from the sweet juice that was pouring from her pussy. To get a better angle so she could finger fuck herself right, she hopped up on the desk and spread her silky legs open. Rubbing her clit and fingering herself all at the same time, Anna was getting herself close to cumming. Her deep breaths and loud moans were amplified when her whole body went into an orgasm. You can watch Anna Joy finger herself and cum only on Anilos.com® the premiere site to watch HD videos of horny cougars pleasure themselves.
»»» End «««
Abi Toyne Lingerie Anilos
Posted - July 7, 2012
Sensual, sexual and oh so desirable, Abi Toyne is a doctor that knows just how to cure any illness that can be caused from sexual deviancy! Her medical knowledge gives her the unique ability to not only take care of your body for health, but she can take fulfill any fantasy that you may have. At the unbelievable age of 45, Abi has the life most people dream of. "Being wealthy and independent gives me much more time to focus on my true passion in life, which happens to be my sexuality." Well the treatment is in; a good pussy spread is just what the doctor ordered, and this is exactly what this hot doctor will give! In lacy, sheer thigh high stockings, Abi's legs seem to stretch into infinity. Her pussy growing increasingly hungry for an orgasm, Abi put her stethoscope on her clit to listen to the pounding of her pussy. Thump... thump... thump... It was pounding away. She was groping her full natural breasts almost to the same beat of her throbbing twat. The repetitive sound started to put her in a trance like state, one in which Abi was so in tune with her body that she started to get incredibly wet. Dripping out on to her clean shaved pussy lips, the sweet pussy juice rolled out to show just how horny Abi really was. She then spread her twat open with her legs in the air to show off the insides of her pussy. It was so sexy! Her soft pink twat was covered in pussy juice and was gleaming in the light like sparkles on an ocean. By the looks of her pussy spread wide open, Abi Toyne has one tight pussy! "Men say I am such a good fuck because I have a tight firm ass, and a tight wet pussy. I guess that is what men like?..." she teasingly said. You can see Abi spread her delicious twat in high quality pictures and in videos only on Anilos.com®!